2020 Projects, Initiatives + Performances
Project Access on Fox 5 News
Our educational initiative Project Access was just featured on Fox 5 News.
On Screen: Beyond Quarantine, Our Annual Fundraiser
Our virtual fundraiser and holiday event to support Accent Dance NYC's educational programming and virtual educational performance went off without a hitch. We were pleased to greet over 60 guests and we raised a significant portion of our fundraising goal.
The entire event is posted below. Please take some time to watch it and consider making a donation. We are dedicated to bringing arts education programs to kids in the neighborhoods hardest hit by the pandemic. We need your help to continue this vital outreach.
Funds raised in connection with this event will support Accent Dance NYC's ongoing educational initiatives, including a soon-to-be-filmed virtual educational performance featuring the work of NYT's dance-videographer Angelo Vasta.
Accent Dance NYC Announces Arts Education Initiatives
This fall, Accent Dance NYC is teaming up with some of the schools we've worked with to bring interactive, virtual dance programming to our students.
We've also partnered with BronxNet TV, creating culturally-responsive dance programming that will be streamed to school-age children and their families on a weekly basis.
Reina's Accent Dance NYC Experience
Livestreaming Educational Video
Now more than ever we must advocate for arts education as a vehicle of hope, emotional, physical and intellectual growth and transcendence. But we need your financial help. Please consider making a tax-deductible donation today.
"An Evening of Advocacy" on BronxNet TV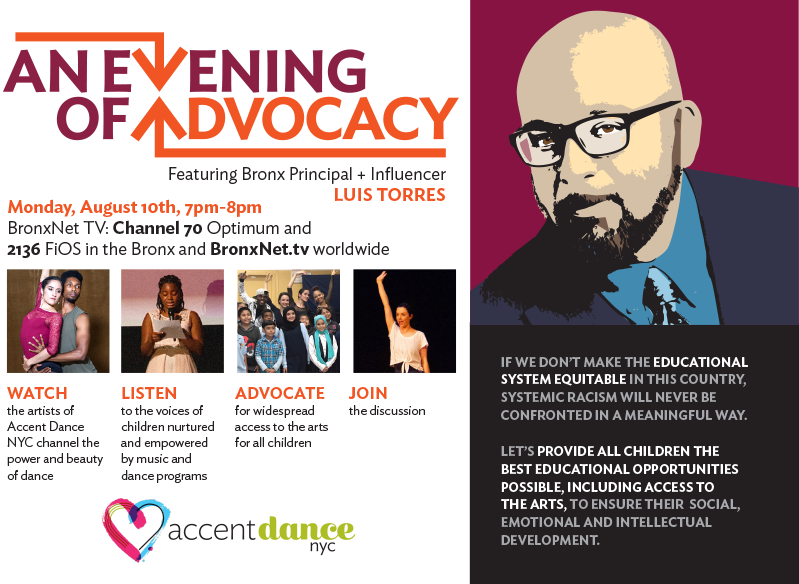 We produced An Evening of Advocacy for BronxNet TV, showing the power of Arts Education to transform communities featuring Bronx principal and influencer Luis Torres.
Here is the program in its entirety. This is an important dialogue about the future of public education and the communities it serves:
Accent Dance NYC in Bronx Rising!:
Los Cantantes: A Tribute to Héctor Lavoe & Rubén Blades
Presented by the Bronx Music Heritage Center, Accent Dance NYC created a livestream event celebrating the life and legacy of the great salsa singer Héctor Lavoe. Watch the entire program below:
Hechinger Report Features Accent Dance NYC
Getting children on their feet in schools where the arts are scarce — but needed more than ever in a pandemic.
"Do you feel like a family when you dance together?" asked one student in the Q&A session that followed the performance, perhaps coming from one of the many children who lived in shelters. The question crystallized the ability of dance to transform lives and unify people.
Read the full article here.
Battery Dance Festival: Naranjo en Flor
Virtual Event Featured in Broadway World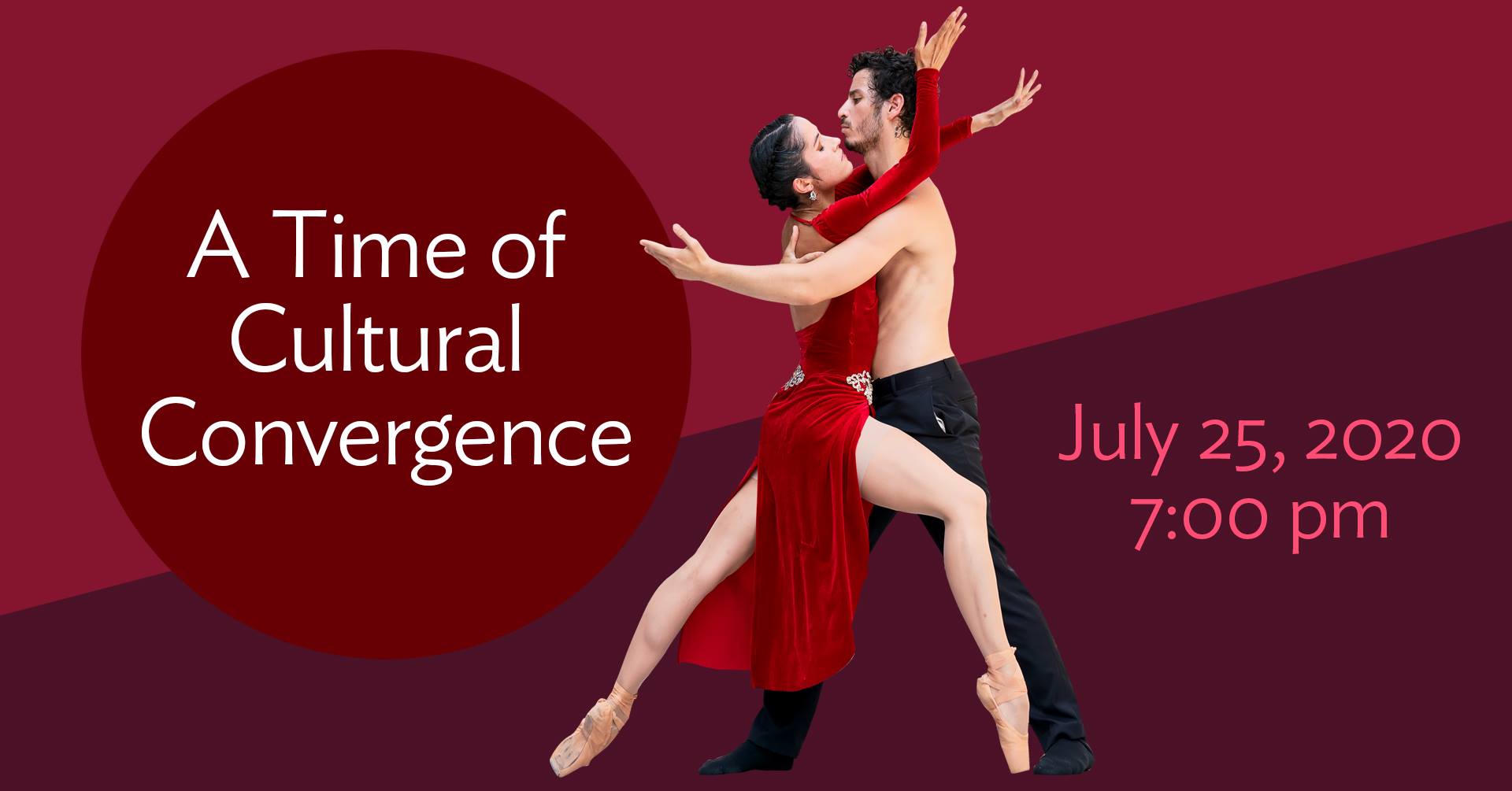 …exploring the artistic, cultural, and humanistic connections among people through diverse dance styles
Overcoming Hardship and Giving Hope to All New Yorkers During the Coronovirus: Fox 5 News Feature on Accent Dance NYC
Cultural Convergence on WPIX 11
2019 Projects, Initiatives + Performances
"Let's Dance" Fundraiser Raised Money for Educational Programs
It was a great evening on September 21, 2019 as Accent Dance showcased its educational work (and amazing dancing!) to an enthusiastic crowd, many of whom offered substantial help for our ongoing educational programs.
Missed the event but would still like to help out? Click on the button below:
DONATE NOW
Accent Dance Profiled by Dance Informa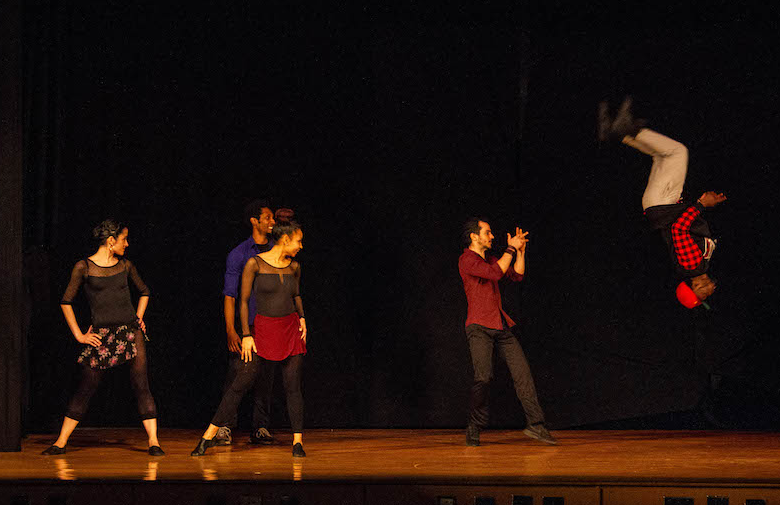 "We bring art to everyone we can," Ziegelman says. "We bring joy, spread multiculturalism, and we do all that we can for kids."
Read the full article here.
Broadway World Showcases Tango Event
Our June 15th event was featured in Broadway World.
The evening will celebrate Army bandleader James Reese Europe, who is credited with introducing U.S audiences to tango during WWI. Accent Dance NYC will present a narrative that explores the evolution of Tango through, lecture, film and dance.
Our First Performances in the Bronx
Here are some moments from our first set of lecture demonstration performances last year in several schools in the Bronx. We are so excited to continue this kind of programming for school-aged children in New York City and neighboring areas.